Hasbro: My Little Pony and Dungeons and Dragons Crossover
---
MY LITTLE PONY CROSSOVER COLLECTION: CUTIE MARKS & DRAGONS

(Ages 8 years & up/Approx. Retail Price: $59.99/Available for pre-order July 22 /Product ships Fall 2020)

Fandoms collide with My Little Pony Crossover Collection -- the first official expanded universe of My Little Pony mashup characters! Crossover Collection Cutie Marks & Dragons set combines the retro My Little Pony form with designs inspired by the worlds of Dungeons & Dragons. Set includes 5 figures, each inspired by an iconic class of D&D characters. These 4.5-inch ponies wear soft, removable outfits and come in special collectors' packaging. Makes a great gift for fans of the My Little Pony or Dungeons & Dragons brand. Set also comes with an exclusive D20 die and illustrated Dungeon Master's screen. These crossover accessories are awesome collectors' items for roleplayers and DMs. Turn the stories you know on their tails with the My Little Pony Crossover Collection.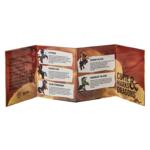 ---
Related Stories:
Previously Unavailable Hasbro Star Wars Items Added To Entertainment Earth!
Hasbro: Hasbro Pulse Announces PulseCon Set for Late September
Hasbro: Fan First Tuesday Marvel Legend Reveals

---