LEGO: 21316 The Flintstones

Originally submitted to the LEGO Ideas platform in early 2017, the modern Stone Age family has finally arrived - and it only took 12019 years to get here!

Capturing those heady, pre-Pebbles/Bam-Bam days, when Fred and Wilma Flinstone, along with their neighbours Barney and Betty Rubble, could go bowling, jump on a pterodactyl and fly off to Hollyrock or go to the drive-in cinema to watch the latest Rock Hudson movie whenever they wanted to, this 748 piece set is sure to be a popular one.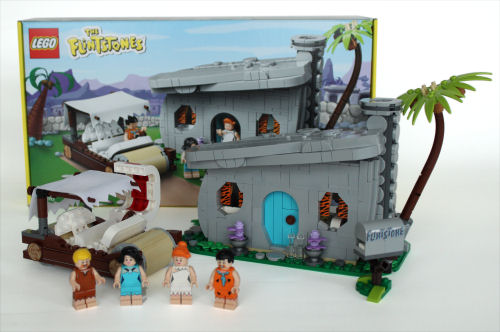 Enjoy modern Stone Age suburban life in Bedrock with this LEGO® Ideas 21316 The Flintstones collectible toy! A wonderfully nostalgic building toy, it features The Flintstones house and their iconic family car. The detailed house has a removable roof for easy play, an opening front door, sofa, TV, coffee table, bowling ball and bowling pin elements, plus a green garden baseplate with a buildable palm tree. Build your own Flintstones vehicle that seats 4 minifigures and features a new-for-March-2019 fabric car roof element and an attachable dinosaur rib for creative play. The first animated TV series ever to be aired in a prime-time slot, The Flintstones cartoon was first broadcast in America in 1960 and has become an enduring family favorite around the world. Recreate hilarious scenes with the included cartoon character minifigures of Fred Flintstone, wife Wilma Flintstone and their friends Barney and Betty Rubble, or simply build and display this instant classic LEGO Ideas model.

This LEGO® Ideas building toy includes 4 new-for-March-2019 The Flintstones cartoon character minifigures: Fred Flintstone, Wilma Flintstone, Barney Rubble and Betty Rubble.


The Flintstones home features a removable roof for easy play, an opening front door, curtains and curtain rails, sofa, TV with aerial, kitchen sink, table and phone, fireplace, painting element on the wall, coffee table with fruit bowl and fruit elements, buildable floor lamp and lampshade, crate with a bowling ball and 3 bowling pin elements, plus a green garden baseplate with a buildable palm tree, 2 flower pots, flowers, plants and 2 milk bottle elements.


Includes a buildable postbox with printed 'Flintstones' decoration, plus a letter element.


The LEGO® brick-built Flintstones car features 4 minifigure seats, 2 steamroller wheels, a new-for-March-2019 fabric car roof element, plus an attachable dinosaur rib.


This creative toy building set comes with a booklet with building instructions, fun facts about The Flintstones, and information about this awesome retro set's fan creator and LEGO® designers.


Build and display this collectible construction toy or recreate your favorite scenes from the classic American animated sitcom The Flintstones.


The Flintstones Bedrock home measures over 4" (12cm) high, 6" (16cm) wide and 4" (12cm) deep.


The Flintstones car measures over 2" (6cm) high, 4" (11cm) long and 2" (7cm) wide.
It's a fun and interesting build that comes in two acts spread over six bags. The first part of the build is Flintstones's famous foot-powered car, and to be honest, if LEGO had just released this part as a standalone they'd be on the hit set of 2019. Luckily the boffins in Billund knew better and developed the LEGO Ideas submission to the max, and gave us the entire Flintstones homestead entirely built out of bricks - or stones, if you prefer. (Which is sure to confuse any German translating app trying to parse this page).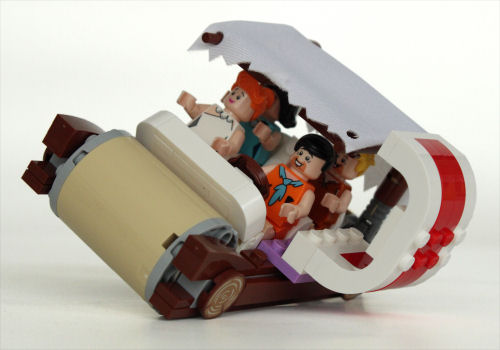 The iconic car is rendered perfectly in LEGO bricks, with the four half cylinder elements perfectly comprising the rollers. The log print on the steering wheel and the cloth roof is the icing on the cake, while the rack of bronto ribs is the cherry that rounds it all off and makes me want to slice it up and serve it with a cup of tea.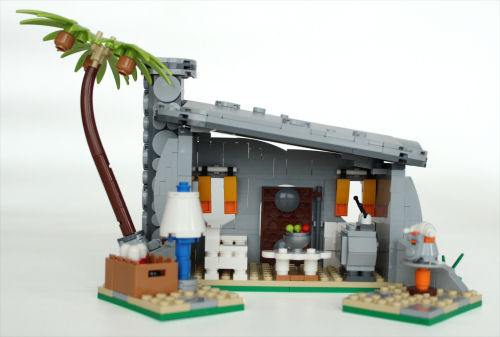 The house build, which is spread over the remaining five bags is a joy to construct. The details - like the fire place and the curtains - that are tucked away are more than sublime, and the subject matter being shown on the TV will put a smile on your face. A nice touch is the removable roof and the two "rooms" at the back which swing out to give this Cave 2.0 added depth.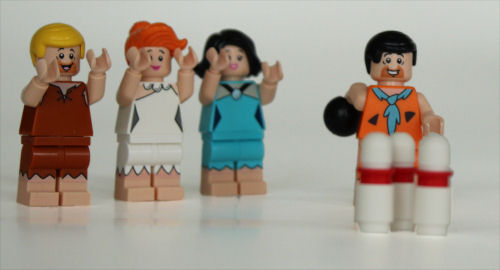 The original pitch by the model's designers, Ricardo Silva and Crystal Fontan, had a number of features that weren't incorporated into the final build - including the kids and pet snorkasaurus, Dino, and most remarkably Fred's famous shnoz - but, by and large, these exclusions have no impact on the final delivery. In fact, the absence of Dino is accounted for in an Easter egg within the set. Head to TheBrickFan.com for an in-depth look at the two versions.

If this yabba-dabba-doozie of a set has caught your eye head to the LEGO shop@home website or your nearest LEGO brand store where this set will be exclusively sold.

Members of the VIP programme will get their chance to buy it on Wednesday (February 20th, 2019) while everyone else will have to wait until March 1st, 2019.



US $59.99 – CA $79.99 – DE €59.99 – UK £54.99
FR €59.99 – DK 549 – AU $99.99


While you are waiting for the set to become available or order why not enjoy a non-animated version of the show's classic theme song!