LEGO Overwatch: Build It, Play It, Share It.

For those not in the know, Overwatch is a first-person shooter set in a dystopian Earth some years in the future. As for LEGO, the important thing to know is that while they normally try and eschew weapons and violence, the gameplay, graphics and overall positivity of Overwatch means that it lands squarely in the brand values that LEGO holds itself, and its partners, too.

Of course, this isn't the first video game that LEGO has bought in to - with Minecraft sets still available and the completely unmemorable Andy Birds, or Pigs or whatever it was, thankfully long-gone.

It's fair to say that LEGO's licensing track has been a bit hit and miss (see, I do remember how to play Angry Birds) but the Overwatch theme doesn't seem to be under a cloud, with hype building up organically.

And why shouldn't it? The selection of sets - six, plus one exclusive, in total - are colourful, attractive and range bang on trend. They range from quick half hour builds right up to a couple of hours of concentration, which is a great mix for all skill levels. Plus they're a great way to fill in a day or two during the long school holidays.

And that's exactly what Cool Toy Review did when it harnessed the power of four young lads to find out how much fun these sets promise to bring.

First off we had Oscar, Lucas and Cooper - all ten year old real world friends who also enjoy some occasional online multiplayer game time - get together for an Overwatch play date. The boys are all avid enthusiasts of LEGO and fans of the Overwatch game, and so were very excited about this unique opportunity to build two sets - 75971 Hanzo vs. Genji and 75973 D.Va & Reinhard - as well as play a brand new copy of Overwatch.




The uninitated will benefit from knowing that the premise of the game is a hero-based shooter that emphasizes teamwork. Squads of six players assume the role of the Overwatch heroes, an international task force that helped end a global robot uprising that takes place 60 years into Earth's future, to help maintain peace and prosperity following the successful end to the conflict. Which, in truth, means performing mini missions and roleplaying the hero characters - each of which have distinct skills and abilities.

All three boys were already well immersed in the lore of the game and arrived gung-ho.

Though Oscar had already built 75947 Bastion the week before the three boys still had a good number of sets to chose from: Lucas picked 75971 Hanzo vs Genji, while Cooper and Oscar decided to split 75973 D.Va & Reinhardt between them.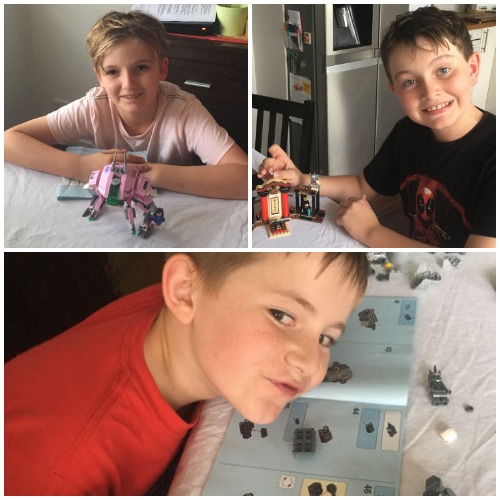 Knowing that their concentration span wouldn't hold them in one place for too long they were given an hour to see how far they could get, followed by an hour of Overwatch game play on the XBox One as an interlude, before returning to their sets.

Lucas was the first to finish his build - the dojo that rival dragon brothers Hanzo and cyborg ninja Genji face off in. The set represents a section of the Hanamura (means "flower village" in Japanese) map which challenges the Heroes to capture two control zones while the defenders attempt to prevent them for gaining the upper hand.

Being a huge fan of Pokemon, Yu-Gi-Oh! and Beyblades, this set was perfect for Lucas's skill level and perference for environmental play and recreating combat moves. As the least experience LEGO builder he used his imagination to roleplay his way through the set, and - using the three minifigs to act out the construction of the building - finished it in less that the allotted hour. His reward was to be allowed to have first pick of the Overwatch characters, and so got to choose Genji.

With the fighting mechsuit-wearing duo of Reinhardt and D.Va respectively being built by Oscar and Cooper, the previously constructed Bastion was brought to the table to watch over the boys. Though you'd imagine that the two of them would easily split the task, they decided to help each other out and treated the two builds as a conjoined one. This definitely amplied the fun they had and removed any competition (until they took up their Xbox controllers anyway), but slowed them down. These two exosuited warriors were more complicated builds and the boys didn't quite complete these before their game break began.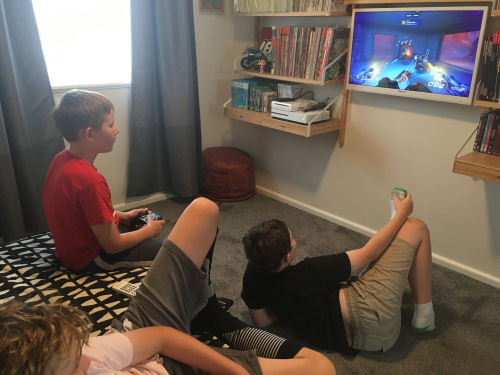 The second round of building saw the completion of Reinhardt and D.Va, and all three were playing out a table-top combat scenario that involved a lot of minifig leaps, explosions and the obligatory pew-pew-pews and resulted in the destruction of the dojo and Genji being soundly vanquished.

Six thumbs up and plenty of positive adjectives were used to review the sets, and each went away with their builds as early Christmas presents and proof of their right to brag that they'd been among the first to get their hands on the LEGO overwatch theme sets!

The second build-date, as the boys now called a LEGO play date, took place when Xavier (who had previously contributed his thoughts on 75222 Betrayal At Cloud City and helped to build 75192 Millennium Falcon a couple of months ago) came over to chip in to finish the last three Overwatch sets - 75970 Tracer vs Widowmaker, 75972 Dorado Showdown and 75975 Watchpoint: Gibraltar.

The main focus of session two was the rocket and launch pad that makes up the Watchpoint: Gibraltar set. But before they could reach their climax they had to complete the two smaller sets first.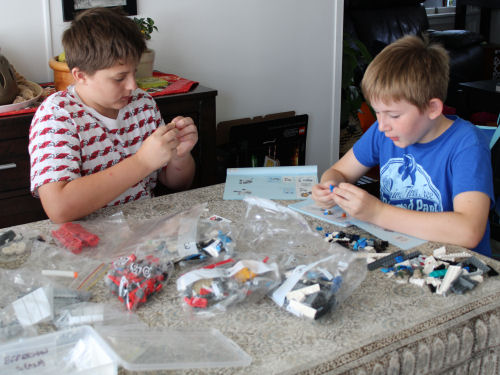 While Xavier got stuck into 75972 Dorado Showdown, Oscar worked on 75970 Tracer vs Widowmaker which included Satellite Drone XR-9, a very important element in the Watchpoint: Gibraltar level of the Overwatch game. Oscar immediately noticed that the drone, which was remotely piloted in the cannon of the game, had a cockpit fit for a minifig. Acknowledging the benefit of this for play, he popped Tracer into the cockpit. Oscar was quick to explain that her advanced piloting skills made her a shoe-in to fly the drone. So it all made sense.

Briefly distracted by this comment, Xavier got stuck back into 75972 Dorado Showdown, which he had already explained was another game map that involves driving a payload truck through a colourful Mexican town in order to restore power to one of the locations main generators.

As well as a pickup truck that has cleverly hidden wheels that simulate the in-game hover feature (a nice touch for any owners of 21103 The DeLorean Time Machine set who want to give it an improved BTTF2 look), the Dorado Showdown (75972) set features a sylised building that reflects the edginess of the location.

Once these two sets were completed it was on to the main event.

According to the game's unofficial wiki site on Gamepedia, Watchpoint: Gibraltar is a mothballed launch pad built for the organisation's orbital activities and - based on the boys' urgency to get to build this set - an important part of the game. They soon got stuck in and - co-operatively - split the built in two, with Oscar building the spaceship and Xavier, willingly taking a back seat, put his effort into the launch pad and tower.

Xavier's greater experience showed through and his red tower rapidly gained height while Oscar, a few years younger, took his time with the payload-carrying rocket. Joining the two sections was a delightful experience for both boys, as was exploring the weaponry and cargo hold features. Both our builders were impressed that the Satellite Drone XR-9 payload fitted snuggly on the shuttle, and spent a good amount of time examining the detail and features of the rocket, while the eyecatching launch pad and tower got surprisingly little attention.

Concerning the video game element of Watchpoint: Gibraltar - which is an escort the payload map with three checkpoints - it would have made more sense if LEGO included smaller structure to represent the first stage marker, interjected Xavier. His feeling that the set was an amazing build and LEGO did a great job reflecting the final section of the map by making the launch tower and ship very playable though.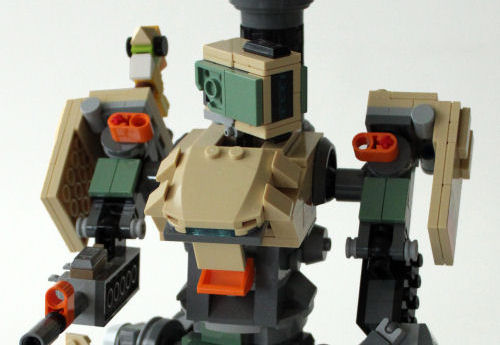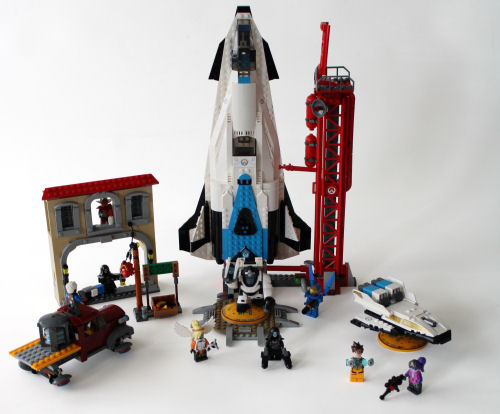 The full range of Overwatch sets are available at many bricks & mortar retailers as well as the LEGO shop@home website. You can help support Cool Toy Review's work, at no cost to yourself, by using the affiliate links provided.

These sets were provided for review by the LEGO Community Engagement Team. However, the opinions expressed on all aspects of the set, are those of the reviewers.