LEGO: Toys "R" Us Canada Bricktober Offer II

The third week of Bricktober kicks off in style with a free LEGO Jurassic World 4 Pack Minifigure Collection (5005255 ) when you make a $75 pretax purchase on any LEGO sets between October 12th and 18th. This offer is valid for in-store purchases only and is not available via their online shopping portal. This four pack contains Owen Grady, Claire Dearing, a raptor and the only available Ian Malcolm minifig to date. There are at least 96 sets per store, which should be plenty to go around.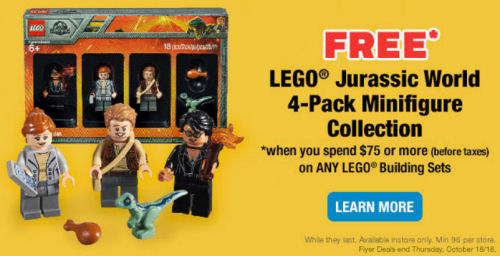 Toys "R" Us are making the month even more spectacular with a massive LEGO sale, with 20% off all Friends and Marvel Super Heroes sets sets over $39.99 as well as ALL LEGO Minecraft sets.

Bricktober continues through - you guessed it - October with the following Gift With Purchase (GWP) promotions, as well as a Make & Take to closeout the promotional calendar.