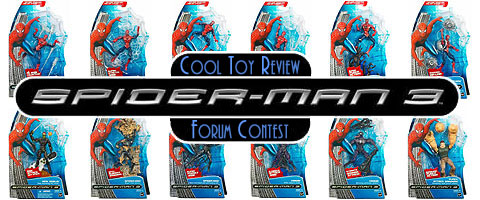 Cool Toy Review and Legends Action Figures are giving away a free set of 12 Spider-Man 3 action figures! Now you can get started on one of the hottest toy lines of the year all at once!

The Figures

The selected winner will win twelve (12) different action figures from Hasbro's brand-new Spider-Man 3 toy line. Each figure comes with its own action feature, recreating the exciting powers shown in the upcoming movie. Here is the list of the figures you will receive:


New Goblin (Disk Launching)
Peter Parker
Sandman (Punch Attack)
Spider-Man (Double Punch)
Spider-Man (Super Articulated)
Spider-Man (Super Articulated - black)
Spider-Man (Spinning Webs)
Spider-Man (Super Kick Action)
Spider-Man (Web Projectiles)
Spider-Man (Zipline Action)
Venom (Capture Web)
Venom (Symbiote Spinning Attack)


How To Play

This one's easy as can be. All you have to do is post in the CTR Forum any time from Monday March 26 until Saturday March 31st.

That's right, any post in our forums with at the very least a full sentence (no less than 10 words) is eligible. Do note that post padding doesn't count, only actual contributions to the discussions on our boards. The more you use the boards, the better your chances of winning!

We will randomly select one post on Sunday April 1st and contact the forum member directly. The winner will have 24 hours to reply with their mailing address.

The figures will be shipped to the winner directly from Legends Action Figures.