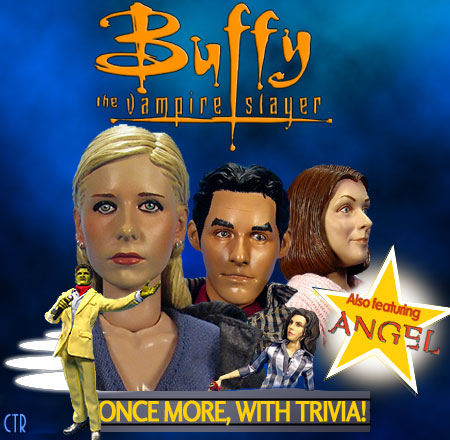 Cool Toy Review is adding the Sideshow Collectibles Buffy the Vampire Slayer line of 1/6 scale figures to the Photo Archive this week. Since we love hanging with the Scoobies, we're giving you a chance to get in on the action!

In cooperation with Sideshow Collectibles, we will be holding a trivia contest that will run from Monday September 17, until Sunday September 23.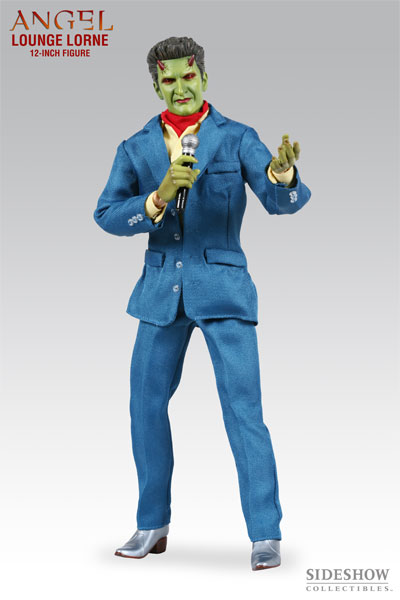 How To Play

We will update our Photo Archive several times each day with new Sideshow Collectibles Buffy the Vampire Slayer and Angel 1/6 scale figures. Each Photo Archive page will contain a trivia question. Simply answer the question correctly and you are entered for a chance to win Lorne - The Host (Lounge Outfit) 1/6 scale figures.

NOTE - The Trivia Contest is now over. All entries are being checked and the winners will be announced on Monday September 24, 2007.

Trivia Questions

Here are the links to the Photo Archive pages that have the questions:


Answer: Caritas


Answer: Angel Investigations


Answer: Sunnydale (although Los Angeles was also accepted)


Answer: The Bronze


Answer: Willow Rosenberg


Answer: "Ripper"


Answer: Dingoes Ate My Baby


Answer: Mayor Wilkins


Answer: He viciously & gleefully murder his own family.


Answer: Xander


Answer: The Scoobies


Answer: Anya (or Anyanka)


Answer: Krevlorneswath of the Deathwok Clan


Answer: Luke and Darla


Answer: Drusilla


Answer: He kills her fellow vengeance demon friend halfrek.


Answer: The Gentlemen absorb all sound...or in this case, text!


The Winner

Congratulations to the winner! Stephanie Wolfe
Thanks to everyone who entered.

Contest Rules

All entries must be sent using the button on the Photo Archive page and must contain the correct answer as well as your full shipping address. For each question, only one entry will be permitted per household. Any additional entries will be disqualified from the draw.

Winners will be selected at random from all the entries with that fit the above criteria. If the winning entry is not clamed within seven days, the new winner will be selected.

Delivery for the contest winner:
**The winner must allow 4-6 weeks after announcement of win to receive the product. All prizes are non-transferable, with no cash redemptions and/or substitutions except at Sponsor's sole discretion. See below for more International Shipping Terms. To get the latest news from Sideshow Collectibles, join the Newsletter!

Delivery Time & Restrictions:
All continental US orders are shipped via either UPS or FedEx ground service. Because FedEx cannot provide tracking numbers for P.O. Boxes, Sideshow Collectibles will no longer ship to a P.O. Box. Please provide your street address or your shipment will be delayed. For FedEx Ground deliveries, please allow up to 6 business days for delivery from the date your order is shipped.

International Shipping Restrictions:
At this time we are unable to make shipments to Venezuela or Nigeria.
Please Click Here for further international shipping information and restrictions.

All taxes are the responsibility of the winner. All prizes are non-transferable, with no cash redemption and/or substitutions except at Sponsor's sole discretion. All international winners will be responsible for any duties, tariffs, taxes or import fees assessed to their prize. Further some countries outside of the U.S. do not have reliable mail services. In the event that a prize has been stolen or mishandled during shipment to an international destination, Sideshow may not be able to replace the specific item and will substitute a prize at its own discretion. If the winner prefers a specific quicker shipping method, they are responsible to notify us immediately and will also be responsible to cover the additional costs if any. At this time, we do not accept credit cards from Mexico. Refer to our Help Desk for alternative payment options.