---
---
---
Toy Fair 2017: What's Next For Mattel's Monster High
D. Martin
February 25, 2017
There will be more figures in Mattel's monster High doll and Monster Minis collections. Click the thumbnails above to have a look at what they had on display at their special media event at the 2017 International Toy Fair. Full Report
---
Toy Fair 2017: Mattel Justice League Action Collection
D. Martin
February 25, 2017
Mattel displayed some of their Justice League Action figures during the 2017 International Toy Fair, but we're not certain any of them are actually new. If this is a line that captures your imagination, click the thumbnails above and see if there is anything surprising in the gallery. Full Report
---
---
---
Toy Fair 2017: Mattel's Wonder Woman Display
D. Martin
February 21, 2017
The display linked through the thumbnails above showcases the first assortment of Wonder Woman dolls being offered from Mattel. Check out the toys based on the upcoming feature film revealed at the 2017 International Toy Fair. Full Report
---
Mattel showed off their latest offerings for the popular WWE line - click a thumbnail above for a closer look. Full Report
---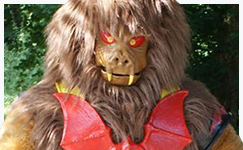 The Best Thing On eBay Ever Today: It's Frickin' Grizzlor!
D. Martin
January 17, 2017
Need something to wear to San Diego Comic-Con, Wizard World, or your cousin's Bar Mitzvah? If you answered yes, you need to follow this link to check out the best thing on eBay ever today. Even if you aren't into cosplay, this listing is must-see! Full Report
---

Having Trouble Finding The Third Wave Of Mattel's DC Multiverse Suicide Squad Figures?
D. Martin
January 3, 2017
The third wave of Mattel's DC Multiverse Suicide Squad, which includes The Joker, Harley Quinn, Headshot, Boomerang, Katana, and Batman, is currently in stock at Entertainment Earth and is available with free US shipping right now! Follow the link above to get yours while you still can! Full Report
---