Mezco Toyz: Scooby Doo 5 Points Deluxe Boxed Set
Posted by: Nick on
March 17, 2023 at 07:39 PM CST
---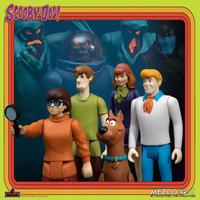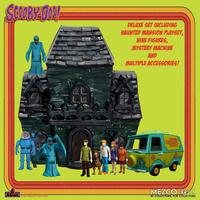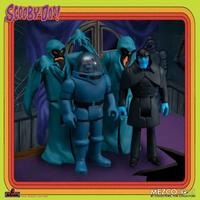 Order your set here.
THE 5 POINTS SCOOBY-DOO FRIENDS & FOES DELUXE BOXED SET INCLUDES:
Fred - leader of the gang and driver of the Mystery Machine, Fred is known for setting traps to capture villains.
Daphne - the fashion-loving member of Mystery Inc., Daphne tends to get herself into tricky situations, earning her the nickname "Danger-prone Daphne".
Velma - the smartest of the bunch, Velma is often the one to decipher clues and solve the mysteries.
Shaggy - driven by fear and his insatiable appetite, Shaggy is Scooby's best friend.
Scooby-Doo - the lifelong companion to Shaggy, Scooby has a knack for clumsiness.
Ghost of Elias Kingston – the disguise of Stuart Wetherby, who sought to terrify his family into giving up their fortune through his menacing appearance.
Green Ghosts – the disguises of lawyers Cosgood Creeps and Cuthbert Crawls, who set out to steal Colonel Beauregard Sanders fortune away from its heirs.
Spooky Space Kook – the disguise of Henry Bascomb, who attempted to scare his neighbor and the Air Force into selling their land for cheap.
The Mystery Machine – the main transportation for Mystery Inc.! The Mystery Machine features wheels that turn, doors that open, and most of the gang can sit comfortably inside!
Mansion playset diorama – the perfect backdrop for Mystery Inc.! The included mansion playset diorama features multiple interiors for a range of unique display options!
ACCESSORIES:
One (1) candelabra
One (1) Daphne's shoulder bag
One (1) flashlight
One (1) map
One (1) bowl of ice cream
One (1) box of Scooby Snacks
One (1) hero sandwich
One (1) magnifying glass
One (1) lantern
One (1) chest
One (1) Stuart Wetherby head portrait
Two (2) sets of shackles
One (1) photograph
Two (2) removable hoods for Green Ghosts
One (1) projector
One (1) Henry Bascomb head portrait
One (1) removable helmet for Spooky Space Kook
One (1) sausage link
Five (5) display bases
5 Points are Mezco's upgrade to the articulated action figures of yesteryear. These highly detailed, posable action figures feature some of pop culture's most familiar faces, both old and new.
The 5 Points Scooby-Doo Friends & Foes Deluxe Boxed Set are packaged in a collector-friendly box, designed with collectors in mind.
*This product is intended for collectors ages 15 and up and is not suitable for children. The product may contain small parts that can be a choking hazard as well as sharp points that can cause injury. The item is not designed for rough play and is considered a display item for collectors.
---
Related Stories:
---