Sideshow: The Child Life-Size Review
Posted by: Nick on
September 1, 2021 at 07:19 PM CST
---
VIEW THE GALLERY HERE.

Get Free Shipping now on "The Child" life-size figure from Star Wars™: The Mandalorian on Disney+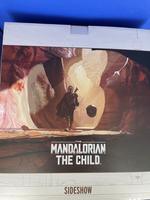 Packaging and Contents
The box captures some of the artwork from the show typically seen in the post credits or on promotional posters. The packing is simple overall, just designed to hold the statue and the base. Everything is secure inside its custom styrofoam steel on the inside.
The content include one The Child life-size statues, one base, and one Razor Crest knob. The clothing is already fitted to the figure, so there is no need to set anything up.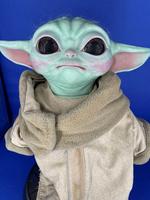 Functionality and Possibility
The mold is very lifelike, although a bit rosier in the cheeks than we recall in the series. We found the skin a little tougher than the Hot Toys version, although the mouth does not articulate so there is really no need for a rubbery texture. There is a sense of sadness and childlike wonder in the pose, almost like he is searching and starring all at once. Likely capturing his curious nature on the show, while also playing on his diminutive stature, requiring him to look up to observe his world.
The hair is highly detailed and appears as if each one was sown into the head giving a very lifelike appearance. Regarding movement, he is in a single pose and his legs and arms cannot be adjusted, however there is some articulation in his head and he can turn from side to side.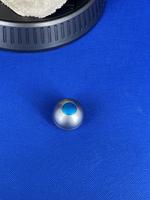 While the statue works great with the base and is really easy to set on it, he can stand himself on a flat surface as he is quite sturdy and well-balanced. Similar to the Hot Toys version, the knob is also magnetic and clings to the hand easily. We would have like to see a soup bowl here and minor articulation to bring the hands to the mouth allowing for two poses rather than one.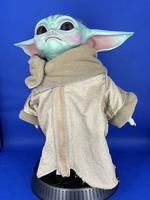 Final Thoughts
Amazingly detailed and a little more economical than the Hot Toys version. If you are looking for that special Star Wars something to spruce up your collection or decor, then this is definitely that piece. It is easy enough to make mobile and utilize in cosplay as well. He's also great for posing with you or a welcome addition to the family for your next viewing of that galaxy far, far away.
---
Related Stories:
Hot Toys: The Child Life-Size Figure Review

---