ANOVOS: Star Lord Guardians 2 Jacket Up for Pre-Order and Sale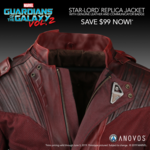 Pre-order by June 3, 2019 to save $99!

May 6, 2019: ANOVOS.com "Guardians of the Galaxy 2 Star-Lord Jacket Update"

The interstellar adventurer known as Peter Quill never imagined he'd one day be known far and wide as Star-Lord. But that's exactly what happened after he and his unlikely team of misfits, the Guardians of the Galaxy, banded together to save the galaxy. Now, with a new outlook on his place in the universe, a mixtape of fresh tunes and a mystery from the past yet to be solved, Quill sets out with his friends to do something good, something bad -- maybe even a bit of both. ANOVOS is proud to offer the MARVEL: Guardians of the Galaxy Vol. 2 Star-Lord Jacket. This is not a toy. Not suitable for children. Does not offer protection. Pre-order items are subject to change in availability and features.

This replica costume jacket was recreated using the original patterns teamed with measurements and reference taken from the original screen-used production assets.

This jacket is made from genuine leather (upgraded from previously proposed design) and cotton duck fabrics topped with three types of rubberized print.
Jacket interior is fully lined.
Fabric colors are digitally color-matched to the original screen-used materials.
Zipper, grommets, and buckles selected to match original jacket hardware.
Includes Communicator Badge replica.
Embroidery and pattern details exactingly replicate the costume in Guardians of the Galaxy Vol 2.