Cherry Tree: Borg Cube Available for Order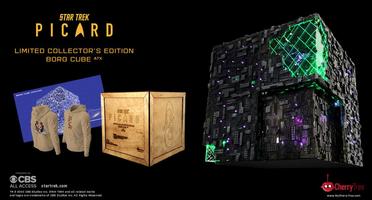 For those that demand the best, we present a special Limited Collector's Edition of the Borg Cube ATX computer. Featuring the unique look of the Borg ship seen in Star Trek: Picard, the Cube is extreme in every way. Each one is a unique collector's item. The cube is individually numbered by a laser, meticulously handcrafted and assembled in the USA. Featuring hand-painted details, and extensive fiber optics. It's not just a powerful computer; it's a beautiful art piece that demands attention. This Star Trek: Picard Borg Cube computer case can also be used as a stand-alone display piece, complete with details and lighting.

This is a full size working PC featuring a custom ATX case measuring a giant 15″x15″x15″. It supports full ATX motherboards, 3 full-size graphics cards, a full-size power supply, and liquid cooling. Since it uses standard PC parts you can customize it to your needs, and add your own "technological distinctiveness" to it, to make it your "number one". It's a case made by fans, for fans, and has giant fans (airflow!).

The case also comes with a special edition hoodie, a poster, and packed in a premium Collector's Edition crate.