Enesco: Hogwarts Decorative Goblet Review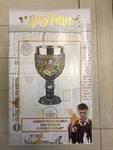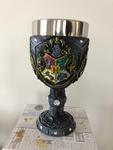 The fine folks at Enesco sent us a sample of the Hogwarts Decorative Goblet from the Wizarding World of Harry Potter. Check out our thoughts in the full article and click here to get one of your very own.

We first got a chance to check this out at New York Toy Fair during our first trip to the Enesco booth this year. You can check out the photos we took at the booth here.

This particular sample is the Hogwarts Goblet, representing all four of the different houses. You can get other goblets for each of the four houses with their own decoration as seen in the gallery above.

The item itself is very elegant and features a stainless steel receptacle portion, making it easy to clean, while still maintaining the look of the goblet. This house goblet would be great for your own Harry Potter themed parties where you could serve some Pinot and give new definition to "house wine." The composition is solid and does not look fragile or cheap. As expected it is hand wash only, but the stainless steel interior makes it real easy to clean. A very nice engineering touch in our opinion.

It is a little on the pricer end at $35, which for most people would keep you from buying enough for a large scale party and reserve it more for a set of five or so for your closest friends. Keep in mind that this is an officially licensed collectible though and also displays well for the Harry Potter enthusiast. We 'expecto' that this would make a great gift for the Harry Potter fan in your life.