San Diego Comic Con 2019 Exclusives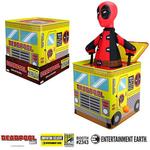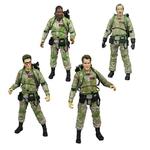 Note, there are many other from these and other retailers not listed. Check out the individual exhibitors sites for more info.


Entertainment Earth Booth #2343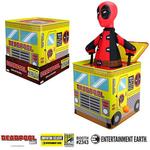 Deadpool Jack-in-the-Box $29.99

The Merc with a Mouth jumps right out at you after "Pop! Goes the Weasel" plays when you turn the crank on this insanely colorful Deadpool Jack-in-the-Box - Convention Exclusive from Entertainment Earth. With a detailed plastic head and a fabric body, the classically styled Deadpool figure showcases the wisecracking anti-hero with katanas in his trademark red outfit, packed inside a retro tin jack-in-the-box that looks like a taco truck (of course)! The box features Deadpool's name, logo, and a menu that advertises tacos, nachos, chimichangas, enchiladas, and burritos. It's a cube that measures about 5 1/2-inches on each side.This limited edition of only 2,394 pieces comes individually numbered with a holographic sticker. You can preorder this on Entertainment Earth now.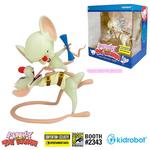 Pinky and the Brain $49.99

It's Pinky, yes Pinky and the Brain, Brain, Brain, Brain, BRAIN! Kidrobot presents the Pinky and the Brain Radioactive Glow-in-the-Dark Vinyl Figure - Convention Exclusive, ready to take over your collection and then the world. Standing roughly 8-inches tall, the scheming duo is caught in a perfect moment of madness as Brain explains the plan on how the world will be theirs by morning if Pinky follows along. As lab mice, they've been exposed to who-knows-what, so both have taken on a cool "radioactive" glow in this Entertainment Earth Exclusive. Show your own genius and join in the quest for world domination by ordering this amazing figure today! Click here.

NECA Booth #3145
(order here starting June 5-7, 1pm EST each day until sold out)




John Kreese $40

Strike first – strike hard – NO MERCY! From The Karate Kid, the iconic '80s film that sent a generation of kids rushing to enroll in karate classes, comes this clothed action figure of John Kreese!
The fearsome sensei of the Cobra Kai dojo wears his black gi and sports his distinctive tattoo of a fist clutching a cobra. The fully articulated figure stands approximately 8" tall and features an authorized likeness.




Capture of Splinter 4-Pack $125

After wading in a puddle of radioactive waste, four ordinary reptiles become more than just turtles, and are raised by the similarly transformed rat Splinter to become New York City's greatest crime-fighting quartet. Their biggest enemy—and Splinter's nemesis—is The Shredder, ruthless leader of the Foot Clan, a criminal organization that's terrorizing the city. Yet is only after Splinter is captured by the Foot that the Turtles learn how far back his feud with Shredder goes…
This epic box set recreates the "Capture of Splinter" scene from the 1990 movie in 7" scale, all the way down to the in-box positioning! The set includes Splinter (with cloth robe), Shredder (with cloth cape), and two Foot soldiers, plus plenty of extras: manacles, a yardstick crate, and a weapons rack for storing all the Foot clan accessories.

Diamond Select Toys/ Diamond Previews #2401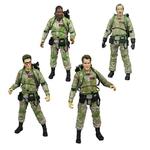 Ghostbusters Slimed Set

They feel so funky! To celebrate the 35th anniversary of the classic horror-comedy Ghostbusters, Diamond Select Toys has created the ultimate movie collectible - the slimed action figure 4-pack! Featuring Peter, Ray, Egon and Winston in their slimed appearances, each action figure features approximately 16 points of articulation, as well as interchangeable hands, removable walkie-talkies and more. Packaged in a full-color window box with a fifth-panel door, this Ghostbusters Slimed Figure Box Set - San Diego Comic-Con 2019 Exclusive is a limited edition of only 1,984 pieces!