Tamashii Nations: Capricorn Shura D.D.Panoramation Series Figure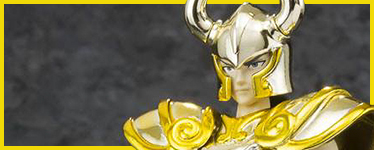 Glittering Excalibur in the Palace of the Rock Goat -Capricorn Shura- "Saint Seiya", Bandai D.D.Panoramation

$54.99 Releasing June 2017


The sixth Gold Saint and faithful servant of Athena, Capricorn Shura, joins the D.D.Panoramation series! Explore the display potential of a roughly 10cm size diorama with loads of accessories for different arrangements. The 10cm figure comes packaged with two optional expression parts, hair for when displayed without mask, two sets of optional hands (L/R), Excalibur effect parts, explosion effect parts, gate parts, large and small bases, staircase, one set of structure parts (on sprue, assembly required), and a support arm and clip.