LEGO: 75810 Stranger Things - As Seen On TV!

If there's one thing the world loves its anything from the year nineteen eighty-something, and LEGO have hit the nail on the head with this retro-style TV advert that pays homage to the classic home shopping format, warbly VHS home recordings and the beige section of the colour palette.

The ultimate LEGO® Stranger Things model to build and collect!
Fans of the global hit Netflix original series will appreciate the authentic details of this highly collectible LEGO® Stranger Things toy – 75810 The Upside Down.

This sturdy, brick-built model can flip between the real world and The Upside Down. The design of the model's building instructions makes it a great shared building experience with friends and family. The Byers' house features Will's bedroom, the living room and the dining room. The Upside Down version of the house, from an alternate dimension, features all the rooms from the real-world model but with a dark, vine-covered, dilapidated look that fans will instantly recognize from the series. With 8 Stranger Things figures, each with its own accessories, this playset makes a great gift for Stranger Things fans who will love to build and display this model to show their passion for the series.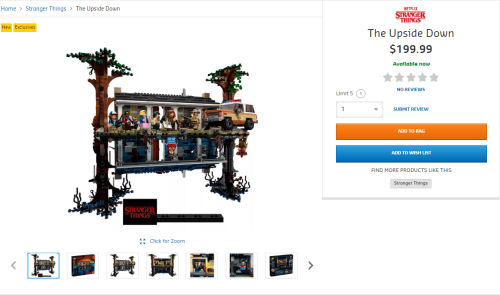 This set is now available, for all to buy, priced US$199.99 – CA$269.99 – DE€199.99 – UKŁ179.99 – FR€199.99 – DKK1799 – AU$349.99 - so call now - operators are standing by!