LEGO: Castle Byers Make & Take

Those lucky to be at the LEGO retail store in London's Leicester Square or the Flatiron District in New York for the launch party at the stroke of midnight on May 14th, 2019 would have been able to take part in an exclusive Castle Byers mini-build to accompany their 75810 The Upside Down purchase.

Sadly, as the set included a sticker sheet that could only be got at the event, those fans who couldn't attend and decided to follow the online instructions weren't able to fully realise their own.

That's about to change for a large number of LEGO VIP members in the US, who just received an email informing them thata large proportion of the LEGO brand stores will be hosting a make & take build on June 25th.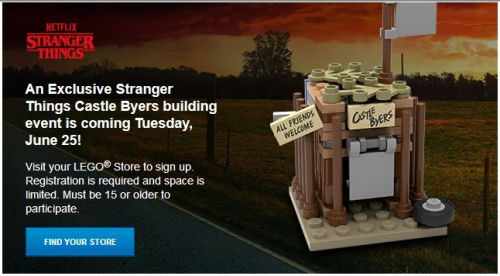 Not all LEGO retail stores are taking paert in the promotion, as some readers have shared, and reservations are required so check with your local store before you make any commitments.