threezero: FigZero Toge Inumaki
Posted by: Nick on
March 17, 2023 at 08:08 PM CST
---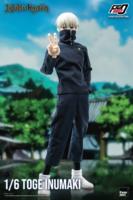 The newest release from the FigZero 1/6th scale articulated figure product line based on characters from the popular anime series Jujutsu Kaisen is Toge Inumaki! FigZero figures capture the memorable appearance of fan-favorite characters as seen in the original anime series with a high range of poseability, detailed sculpts, and tailored fabric outfits.
FigZero 1/6 Toge Inumaki is approximately 10.8" (27.5cm) tall, and is a fully-articulated collectible figure made primarily of ABS, PVC, and POM plastics with fabric textiles and over 38 points of articulation.
The character's costume includes a Jujutsu High jacket, Jujutsu High slacks and socks, which are all made of fabric. It also comes with two interchangeable fabric collars (an opened collar and a closed collar). The figure comes with two interchangeable faceplates (a neutral face and a Cursed Speech face), and seven sets of interchangeable hands. Other accessories include a medicinal cough syrup, a onigiri, a smartphone, a Yes/No signage and a Cursed Speech effect part.
© Gege Akutami/Shueisha, JUJUTSU KAISEN Project. All Rights Reserved.
Pre-order Price: 149 USD / 1,010 RMB / 1,160 HKD / 19,410 JPY
Estimated Shipment: 3rd Quarter 2023
---
Related Stories:
---