Posted by: Nick on
August 25, 2023 at 05:31 PM CST
---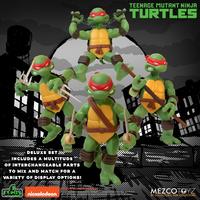 The Teenage Mutant Ninja Turtles 5 Points Deluxe Box Set includes
:
- Leonardo - the leader of the Turtles with a heart of gold, Leonardo wields his trusty katana swords and is always ready to tussle.
- Raphael - the tough and fearless brawler with a no-nonsense attitude and fierce loyalty, Raphael unleashes his sai in lightning-fast strikes.
- Donatello - the brains behind the operation, Donatello uses his bo staff and ingenious inventions to outsmart any foe.
- Michelangelo - with his infectious humor and love for pizza, Michelangelo brings laughter and energy to the team, and is ready to strike with his nunchucks.
Accessories:
- Six (6) interchangeable heads
- Six (6) pairs of interchangeable hands
- Seven (7) pairs of interchangeable arms
- Eight (8) pairs of interchangeable legs
- Four (4) interchangeable belts
- Four (4) belts with weapon storage for each Turtle
- Two (2) Katana swords
- Two (2) Sai
- One (1) Staff
- Two (2) Nunchucks (folded)
- Two (2) Nunchucks (extended)
The 5 Points Plus Teenage Mutant Ninja Turtles Deluxe Set is packaged in a collector-friendly box, designed with collectors in mind.
5 Points are Mezco's upgrade to the articulated action figures of yesteryear. These highly detailed, posable action figures feature some of pop culture's most familiar faces, both old and new.
---
Related Stories:
---