Sideshow: New Designer Toy Brand Unruly Industries Announced
Posted by: Nick on
July 15, 2019 at 06:08 PM CST
---
"Our designer toys are pushing the boundaries of creativity and alternative art," said Erik Scoggan, Designer and Unruly Brand Manager. "We're not only making licensed characters, such as Tracy Tubera's stylized sneaker-focused Marvel Collection or Jose Pulido's calavera-themed DC Collection, but also original characters, such as Magi and Maret from Craola's Starry Knights universe. We are so excited to be a platform for artists to express their fandoms and original creations."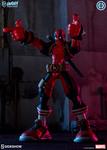 Sideshow, known for its museum-quality pop culture collectibles, launched Unruly in late 2018, and the first Unruly product has started to ship during SDCC.
"Expect Unruly designer toys to have all the quality that Sideshow is known for but applied to artistic expressions that hail from the realms of modern art, punk rock, hip hop/urban street art, and pop surrealism," Scoggan explained. "We're committed to staying true to the visions of the creators we are collaborating with: Maintaining their authentic voices, preserving their unique styles – and connecting them with fans, both old and new."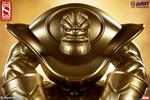 There will be one 2019 SDCC Unruly Exclusive collectible: Thanos- The Mad Titan (Gold Edition) Designer Toy by Joe DellaGatta. Visit Sideshow booth #1929 and Unruly Industries™ booth #2649 to see this figure up close, and enter for a chance to win this convention exclusive collectible only at the Unruly Booth. The figure will also be available for purchase in-person while supplies last only at the Sideshow booth. Follow @unrulyindon Instagram for more exclusive first looks.
---
Related Stories:
SDCC 2020: Sideshow/Hot Toys Virtual Booth Additions

---